Master David Alexander has practiced Tai Chi Chuan since 1978, and has taught since 1995. He received his teaching certification and advanced diploma from the prestigious Grandmaster William C.C. Chen.
The teaching approach employed fosters simultaneous health benefits, improved mind / body harmony, stress reduction, and the foundation of sports and martial art skills. This is achieved through Tai Chi Chuan instruction focused on internal connection, self-awareness, body mechanics, and energy movement.
Mr. Alexander is also a psychotherapist and psychoanalyst with offices in Roslyn, LI and Manhattan.
---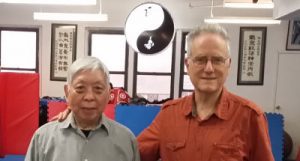 William C.C. Chen
Grandmaster William C.C. Chen innovated
Body Mechanics
as a way to enter deeply into the mind / body connection, a unique and extremely valuable contribution to the understanding of Tai Chi Chuan, and of movement in general.
A key principle, also emphasized at Internal Tai Chi Chuan of NY, is that we activate energy not muscles, and as a result the muscles flow freely to accomplish the movement guided by our brain through intention and energy. This focus is excellent for health, as well as for martial arts and all sports.
Find out more by watching classroom and instructional videos by William C.C. Chen through our alliance with Content Galaxy. Subscriptions are available at a very reasonable cost; I recommend this for those who want a wide variety of thorough videos featuring William Chen demonstrating the form as well as teaching the movements, boxing, and push hands. Additional videos with Cheng Man-Ch'ing and others are also included.