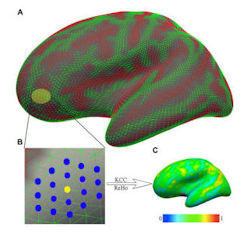 In our daily lives, most of us, even those who consider themselves relatively relaxed and stress-free, are holding a lot of muscle tension in our bodies, and corresponding tension in thoughts and feelings.
As psychologists and scientists have been exploring for well over 100 years, there is activity in the brain–feelings, worries, and so on–that cause us to create that muscle tension. And we are not even aware of the majority of that tension, since it is habitual.
Tai Chi Chuan practice is one way to gradually release that tension. By focusing on full brain / mind / body integration and action, we start to cut through our own seemingly endless loops of thought and feeling, loops that create stress and loss of simple enjoyment in our selves.
I like to call the Yang-style Short Form a framework for self-development. The reason we repeat the "same" thing over an over is that each time we do so, we are learning something new.
The Tai Chi Chuan form is never the same, even for the same person who carries it out twice in a row. Each time we practice the form, we are actively creating our experience as we move slowly and with awareness from moment to moment.
What does that mean in practical terms? How do we do this?
One key is to understand and use the Yin-Yang polarity. As human beings we can never function in total release nor in total action. Life is a moment-by-moment flow between letting go and engagement, on a background that is neither one of those. That is our reality!
While practicing Tai Chi Chuan, we are connecting to and embodying that reality. And when that happens, our brain / mind / body starts to feel both more awake, and more free of stress. In pre-action moves we release into the ground and sink energy into the feet and below into the Earth. In the subsequent action move, the energy expands from toes to fingers, filling our whole brain / mind / body with warm feelings and energy. The flow between release/letting go and action/engagement helps our nervous system function better, circulation improve, and has other positive effects as well.
This scientific article points out positive, measurable brain effectiveness changes due to Tai Chi Chuan practice. It is dense reading, but the conclusions point to less "noise" when we activate functions, and more consistent integration of the parts of the brain that need to be integrated.
Grandmaster William C.C. Chen coined the term "nosey muscles", referring to the unwanted activation of muscles that get in the way of simple, enjoyable movement. It turns out, we can also call them "noisy muscles"… that is, muscle and thought activations resulting from noise in the brain that interferes with clean, effective, enjoyable functioning in the moment.
Nosey, noisy: the key is to realize our brain can and should activate our body functions in a more integrated and less stressed manner.
Practicing the form day after day and year after year helps build a new set of circuits and a new set of resulting perceptions and experiences that allow us to accomplish more with less stress and more enjoyment. And that is a good thing, right?